Course overview
The service sector accounts for a significant proportion of GDP in most countries. The event and entertainment industry accounts for 70% of GDP in high-income and over 50% in middle-income countries. In Vietnam, services contribute to 35% of growth, despite a dire shortage of human resources. Event and Entertainment Management is a new academic major in Vietnam and qualified graduates will be in great demand over the next 20 years.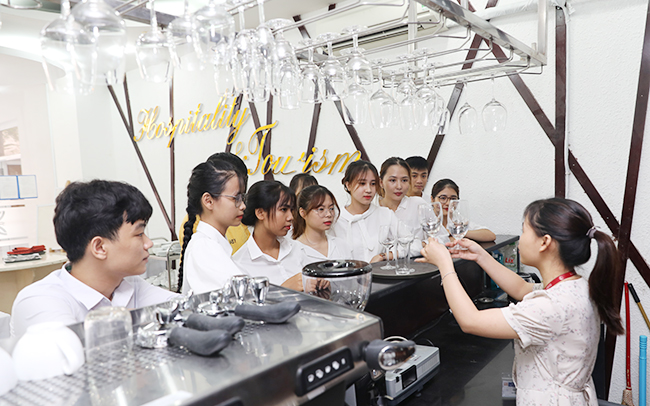 Students practice at the DTU Hospitality Institute
The program is designed to provide students with hands-on knowledge of Event and Entertainment Management and practical skills in event planning, organizing, managing, promoting and evaluating festivals, conferences, sports and trade exhibitions. At the same time, students will learn about food & beverage service, events design, logistics and risk management.
Duration: Full-time students normally graduate in four years.
Training course:
The Bachelor's degree course in Event and Entertainment Management consists of 123 total credits:
Fundamental knowledge: 40 credits
Introduction to Event and Entertainment Management: 45 credits
In-depth knowledge (Field of study): 33 credits
Internship: 5 credits
The course enables students to plan and execute various types of events, and are taught by foreign lecturers from Australia, Singapore, Korea, and local Vietnamese experts.
Professional skills
Management skills: including time management, working under pressure, finance, planning, effective team management
Creative skills: to take an event concept and bring it to realization
Marketing skills: promotion and conceptual selling
English skills: perfecting normal and specialized English
In addition, students will gain experience in problem solving, communication, research, data analysis, evaluation and other skills.
Employability
The course will enable graduates find careers in:
Marketing, PR and sales, HR and finance in large hotel chains, resorts, events management
General management
Culture, sports and tourism agencies
Universities and hospitality institutes
Event and Entertainment Management students benefit from DTU partnerships in the local hospitality community, where they can work with professionals in the field and apply classroom theory to real-world situations. In addition, DTU collaborates with the Nguoi Lao Dong Newspaper to hold an annual Job Fair to offer new career opportunities. Graduates of Event and Entertainment Management, can find work at the Hoiana, the Anantara Hoi An Resort, Marriott International, the Hilton Danang and the Hyatt Regency Danang Resort and Spa who are all long-standing DTU partners.