Although Accounting has been a popular major for many years now, Bachelors of Accounting are having great difficulty finding jobs and often end up working in other fields. Many universities are still going to great lengths to enroll Accounting students but businesses are fruitlessly hunting for students and pleading with universities to produce more qualified accountants. Why this contradiction? And are there really too many accountants?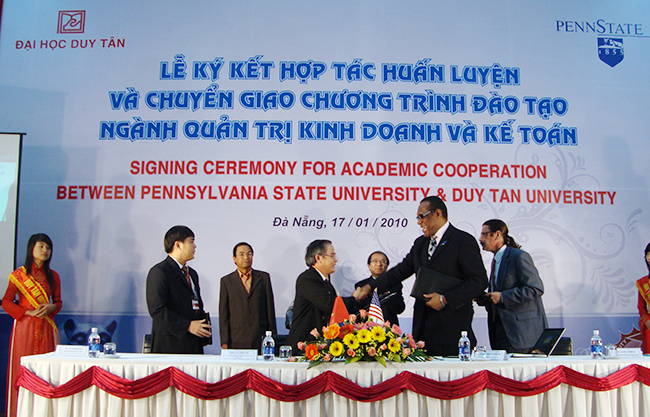 DTU signs an agreement with PSU allowing Accounting students access to advanced international programs
According to general opinion, there are currently too many accountants in Vietnam, but businesses are still not able to satisfy their recruitment needs in this field, which is a distressing paradox. When companies are asked why they are hesitant to hire newly graduated accountants, those universities realize that they must review their programs and acknowledge that business partnerships and practical on-the-job training are essential for Accounting students to learn more about corporate and social requirements. Partnerships provide a broader range of job opportunities for Bachelors of Accounting educated at leading Vietnamese universities.
Recent partnerships have clearly demonstrated the improving abilities of Accounting graduates. Students now can confidently choose to study Accounting because of increasing career prospects, especially in better-paid jobs involving the ASEAN Economic Community, for example.
Enrolling in the international-quality major in Accounting and Auditing is a new trend
One of the trends contributing to the improved quality of graduates nowadays is the focus on foreign partnerships to educate an international workforce. At DTU, the Accounting curriculum has been developed over several years of partnerships, including one with Pennsylvania State University (PSU), a leading American university in Economics and Business Administration. Accounting students are offered an advanced and international-quality education and awarded Certificates of Completion in Accounting by PSU.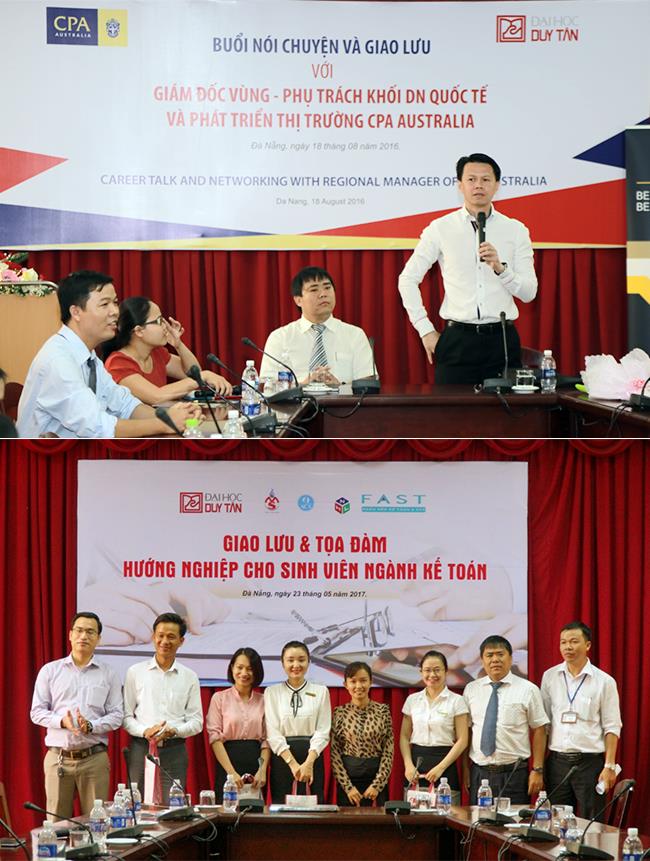 Seminars and vocational guidance improve the standard of Accounting education at DTU
The DTU Accounting major has always been highly regarded in Danang and elsewhere. Local students enjoy an international-level education near their homes, taught by experts, in a professional study environment which enhances their English and professional skills and allows them to find jobs immediately on graduation.
The best students of the PSU Accounting and Auditing program are sought after by foreign companies but the current quantity and quality of highly-skilled Accounting graduates is still not sufficient to meet market demand. However, this presents an ideal opportunity for DTU applicants to choose this major to guarantee a secure career in the near future.
In 2020, DTU continues to award preferential scholarships in Accounting
• Scholarships for applicants with excellent high school transcripts: 700 scholarships worth from 500,000 to 2 million dong, for applicants with high school transcript scores of 22 or above, including Accounting applicants.
• Scholarships for high-scoring HSGE: 720 scholarships worth from one to five million dong each, for applicants with total High Graduation Exam three-subject scores of three to ten points higher than the admissions minimum, including Accounting applicants.
• Scholarships for advanced and international programs: Ten scholarships, worth 5 million dong each, to applicants of Advanced Accounting PSU program.
• Scholarships for the advanced and international PSU program: Five scholarships for total High School Graduation Exam three-subject scores of 22.5 or above, including Accounting applicants.
• Talent scholarships: A 10% reduction in tuition fees throughout the course, for all applicants in Managerial Accounting.
• 45 full scholarships and 90 partial scholarships for international students enrolling in Accounting in the Talent program.
• 45 full scholarships and 45 partial scholarships for Vietnamese students enrolling in Accounting in the Talent program; who have already won first, second, third or consolation prizes in a National Excellent Student contest or National Science & Technology contest, with IELTS scores of 5.5 or above.